02
Feb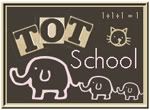 Hunter is 13.5 months old
We had another fun week of Tot School!  This was our last week of our farm animal theme.
Hunter enjoyed listening to the sounds the different animals make.  When it sings the song "Old MacDonald" Hunter sings along and says "E-I-E-I-O!"
Hunter made this cute footprint pig, you can see the original post here.
He also made this handprint chicken, you can see the original post here.
We practiced finding the parts of the face in this book full of baby faces.  Hunter loves this book!
We also practiced body parts using Mr. Potato head.
I used this old container and cut some holes in the lid and then had Hunter put pom poms in the holes.  (I saw this on someone else's blog and I can not remember where I saw it to give them the credit :-()  He studied it for a while before trying it out.
It took him several tries to get the pom poms into the holes.
Once he finally did it, he was very proud of himself!
This kept his attention for a long time!!  He did it over and over again and was so happy when he got them into the holes.
(Make sure you keep a close eye on your children when doing this so that they don't put the pom poms into their mouths.)
Hunter also had a lot of fun playing with bubbles, you can see the original post here.
The cow had a lot of fun in  the bubbles too.
This is not really tot school, but this week my little man cub grew up 🙁  He got his first hair cut.  He definitely looks more like a toddler and less like a baby now.
Before… trying to figure out what the hair dresser was doing,
Sad little boy
After a while he just sat quietly and let her cut his hair.
All done!
Looking all grown up.
Stop by 1+1+1=1 to see what the other tots have been up to this last week.
Leave a Reply