13
Jul
Without a doubt, Hailey's favorite subject is art.  She is also very good at it.  Me?  Not so much.  I can find cute activities for her to recreate, but as far as actually teaching art and art techniques- I don't have a clue.  For most of the school year we attend a weekly co-op and she takes an art class there.  But, that ended at the end of April and Hailey has been asking me if she can take some art classes. For the past several weeks she has been using the Entire Level II from ArtAchieve for her weekly art lessons.

ArtAchieve is an online resource of art lessons for kids.  The lessons are very complete and there isn't much you as the teacher will have to do, other than gather supplies.  There are 5 different levels available at ArtAchieve.  The lessons can be used for any age from kindergarten on up.  Even adults can use these lessons!  You will just need to choose the best level to start at depending on the ability of the your art student.  Within each level there are several different art lessons.  We reviewed the Entire Level II and there are 14 different lessons on that level.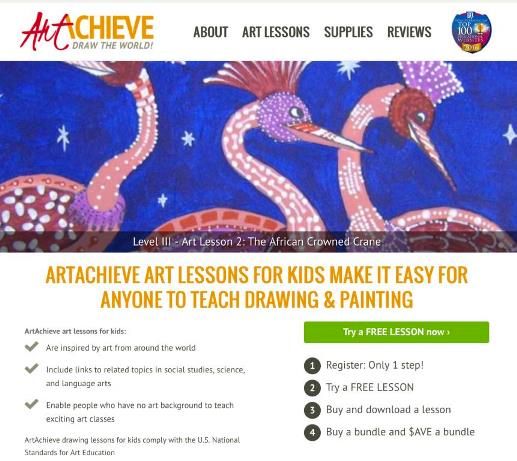 The lessons are available as a video where your child will watch a teacher and follow the instructions.  The lessons are also available as a PowerPoint, which is how we chose to use the program so that Hailey could do the lessons at her own pace.
Each lesson starts out by showing the art standards that the lesson will meet.
 Then there will be a picture of the object that the lesson is about.  This picture is from the Japanese Goldfish lesson.  There are several slides with information about the object.  Not actually included in the PowerPoint presentation, but given on the website for each lesson, are ideas to make cross-curricular connections.  With the Japanese Goldfish lesson there are ideas to connect it to Social Studies, Science, Writing, Literature, Geography, and of course, art.
 Next you will find a slide with the materials that will be needed within the lesson.
 Next up will be a relaxation technique to help get your child ready to create art.
Relaxation is followed by a drawing warm up that will need to printed out ahead of time.  Music is also an important part of these lessons and students should listen to some quiet music to while they work.  Finally there are a few rules to go over before starting the drawing part of the lesson.
Now it is time to draw.  There are step by step directions to guide your child through the drawing.
When the drawing is finished there will be instructions to color or paint the drawing, depending on what is being used for that particular lesson.  There are some suggestions given, but the rest is up to your child.
Hailey's finished fish.
 Here are a few other projects that Hailey worked on:
This lesson about the Czech Cat is available for free, so you are able to see how this homeschool art curriculum works and see if it would be a good fit for you.
Hailey's finished cat.
Hailey also worked on the Swedish Dala Horse.
 Another lesson Hailey did was the German Nutcracker.
This art curriculum is perfect for us!  For the most part, the lessons are easy enough that Hailey can actually complete them without any help from me.  She has learned a lot and even asks to do the lessons during her summer vacation 🙂  That is a sign of a fun curriculum!!
Check out ArtAchieve on Social Media:
Facebook
Twitter
Pinterest
Google+
Instagram



One comment on "
ArtAchieve Review

"
Leave a Reply