15
Feb
Hailey is currently 28 months old.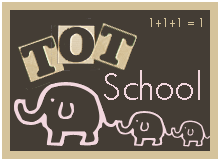 Another week of Tot School has gone by- the time is just flying!  Here is a review of what we did this week with links to the activities I posted about.
Our letter of the week this week was the letter I.  We made this Ice Cream Cone I.
Hailey loved doing this heart sponge painting.
Hailey colored the pieces for our first Tot-Book.
Here is the outside of Hailey's completed Veggie Tales Tot-Book.
The inside.
You can get everything you need to make your own at Veggie Tales Tot-Book.  (Thanks so much Carisa for doing the Tot-Books!)
Hailey really enjoyed her Veggie Tales Tot-Book!
We also painted using cookie cutters shaped like Valentine's.
Hailey made Valentine's Day cards for her grandparents.
Hailey really enjoyed making this heart fish.
Stop by 1+1+1=1 to see what the other moms of tots did last week.
0 comments on "
Tot School- Week in Review

"
Leave a Reply