10
Nov
One of our favorite subjects is most definitely history! When I was in school if someone had ever told me that I would one day love history I would have thought that person was crazy. I was taught to memorize dates and information, which was very boring and I do not remember much of anything about the history I learned in school.  I knew I wanted to teach my kids in a very different way, and keep things fun and interesting so that they will remember what they learn.  When I saw Eat Your U.S. History Homework I thought it would be a really fun way to learn some history, and it definitely fits into my hands-on teaching approach.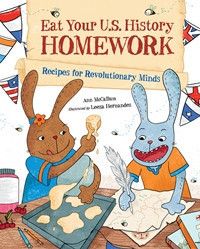 Ann McCallum is the author of Eat Your U.S. History Homework, as well as several other books including Eat Your Math Homework, and Eat Your Science Homework which you can learn more about at Ann McCallum Books.  The book we reviewed was Eat Your U.S. History Homework: Recipes for Revolutionary Minds, which is geared for children in grades 2-5.  It is a 47 page, hardcover book that includes 6 recipes.  Several historical events that occurred between 1620-1776 in American history are highlighted throughout the book.  These include when the Pilgrims arrived in America, life in original 13 colonies, the French and Indian war, Slavery,  the Boston Tea Party, and the Declaration of Independence.
Each historical event has three parts to it:
First, there is a short, one page history lesson.  This particular recipe, Revolutionary Honey-Jumble Cookies, highlights America in 1773 and goes over the Boston Tea party and some of the events that happened at that time.  There are several bold words throughout the lesson which can be looked up in the glossary in the back of the book.
The next part is the recipe.  All of the ingredients and equipment needed are listed.  There are step by step, illustrated instructions.
The last part gives some brief, interesting information from the time period.  Then it ends with some thought provoking questions.
So, how did we use Eat Your U.S. History Homework?
Hailey is studying U.S. history this year, so this book fits in perfectly with our studies!  It definitely works as a great supplement to add some fun things into your U.S. history studies.  In the example I am sharing- we read about the Boston Tea Party and it reads more like a story than a boring history text book.
Hailey looked over the recipe for the Revolutionary Honey-Jumble Cookies.  All of the ingredients were regular items that we already had at home, so I did not have to buy anything.
Measuring some honey
Stirring some of the ingredients
Super delicious Honey- Jumble cookies
This is not a typical history book as it just highlights a few events.  I think it makes a great supplement to your history curriculum to add some fun cooking with kids.  The book is written in an entertaining manner, with cute illustrations, that keeps the readers attention.  It is very interesting to learn the origins of some familiar recipes- for example we learned that the Honey-Jumble cookies are now called snickerdoodles, one of our favorite cookies.   The recipes are simple and most of the recipes in the book use ingredients we already have at home.  Hailey, age 9 and in 4th grade, was able to follow the directions for the recipe and make the cookies entirely on her own.  While it is recommended for kids in grades 2-5 I think it would be fun for younger and older kids as well.
Hailey's review of Eat Your U.S. History Homework: "I thought it was really interesting to learn about when they ate the cookies.  It was really fun to make cookies!"
I would definitely recommend Eat Your U.S. History Homework as a fun addition to your U.S. studies.


Leave a Reply