14
May
I was given the book S is for Smiling Sunrise from WordsBright to review.  S is for Smiling Sunrise is a hardcover book written by Vick Wadhwa.  The author is a dad who was feeling bored with the typical toddler ABC books, so he decided to write an ABC book that is much different than the ABC books parents are used to seeing.  Rather than seeing things like A is for apple and B is for ball, you'll find A is for artwork and B is for butterflies.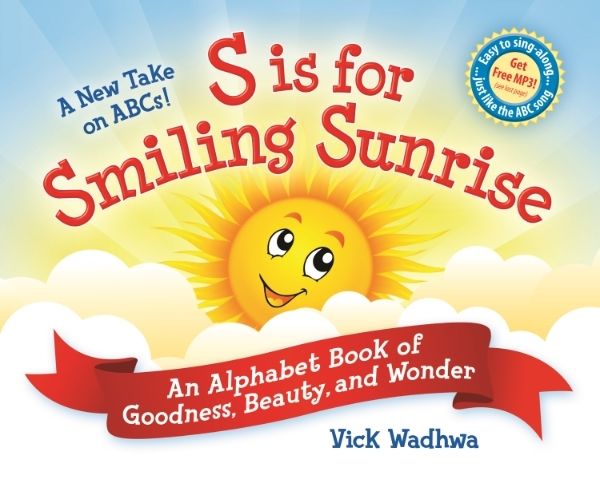 S is for Smiling Sunrise is geared for children in pre-k through third grade.  There are pre-k teaching tips available for parents as well as tips for teaching kindergarten through third grade.  In addition there is a free mp3 alphabet song available as well, that goes along with the rhyming book.
How did we use S is for Smiling Sunrise?
First up we listened to the song and Hunter danced along.
Then we read the book.
Right now one of the things we are focusing on in preschool is Hunter learning the letters of his name.  He can spell his name, but he does not actually recognize the letters.  So, I thought it would be fun to focus on each letter in his name and do a little activity to go along with the book.
In the book the letter "H is for heart."  There is a cute little rhyme to go along with it.
I pulled out our stethoscope and we listened to our hearts.  Hunter didn't really like how the stethoscope felt in his ears, but he did think it was pretty neat to be able to hear his heartbeat.
Next up, "U is for universe."  I would probably never think to use universe when teaching the letter U to a preschooler, but it was a great new vocabulary word for him.
Then we made a universe- we used a spray bottle to spray watered down white paint onto black paper for stars.  Then Hunter painted some planets and glued them on.  It was a great way to introduce the idea of our universe.
"N is for nature" was next.
Hunter wasn't feeling particularly cooperative when we did letter N, so Hailey helped me out.  I gave her a piece of contact paper and she took it outside and put things on it that reminded her of nature.
N is for nature collage.
I think that "T is for tasty" was a definite favorite!
I blindfolded Hunter and Hailey and then fed them some different snack foods to see if they could guess what I was giving them.  We talked about which were healthy choices and which were not.  Then they had to blindfold me and have me do a little taste test 🙂
"E is for evening" was a hard concept for Hunter to understand.  While I still don't think he understands it, it was still good to introduce him to the concept.
I put pink and yellow paint on a piece of paper and let him paint a sunset.
"R is for rainbow" was last.
I put the colors of the rainbow onto a piece of paper and gave Hunter some different items to use to paint with.  He had a lot of fun with his rainbow.
S is for Smiling Sunrise was a fun addition to our preschool for the last few weeks.  It was fun to think about the ABCs and teaching the ABCs using different words than I would normally think of.  I think it's a good fit for working on letter recognition for the younger kids and for introducing new vocabulary and concepts for the older kids.
Learn more about author Vick Wadhwa on Facebook.


Leave a Reply