05
May
Finding the right math curriculum can be quite a challenge.  There are so many different learning styles and teaching styles for math.  For kindergarten and first grade, Hailey went to public school.  I started homeschooling her in second grade and I used the math curriculum that was recommended with the boxed curriculum we bought.  It wasn't a bad math program, it just didn't work for us.  For third grade I found a math curriculum that is working well for us.  The problem is that over the lasts few years Hailey has used several different math programs.  I have been worrying that with all of the switching around there must be gaps in what she has learned.

I was given the chance to review the Adaptive Placement Test and Individualized Lesson Plan from A+ Interactive Math.  The Adaptive Placement Test and Individualized Lesson Plan is a program that is meant to identify and close the gaps in learning math.  This is exactly what I believe Hailey needs to make sure she isn't missing anything after all the switching around we have done.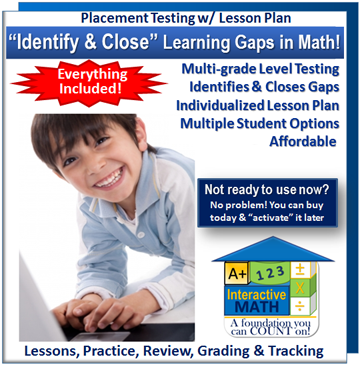 So, how does the Adaptive Placement Test and Individualized Lesson Plan work?  It is an online program, so you will need to have internet access in order to  use it. You will be able to use the program on a PC or a MAC.  Your child can use the Adaptive Placement Test and Individualized Lesson Plan for up to 3 months to work towards closing the learning gaps in their math knowledge.
When you first sign up you pick a grade level for your child.  Then there will be several different math topics to pick from.  Your child will take a quiz on which ever topic you want to start with.  You do not have to go in any particular order but I noticed that the first topics were the easiest and it got harder as we went along. After the quiz your child will get immediate results- either to say that he or she needs to work on that topic or that he or she is at grade level and doesn't need anymore work.
If your child needs more work to be at grade level there will be individualized lesson plans for your child to use.  There is a lesson and after the lesson there are interactive questions to make sure your child understands what was covered.  Once all of the lessons in a topic are completed your child can go back and retake the quiz.  If you don't think your child needs to go over all of the lessons you are able to skip them or just have your child do the interactive questions at the end.
If your child doesn't have any gaps in their math learning, A+ Interactive Math also has an option for a Family Math Package that might be a better fit for you.
So, how did we use the Adaptive Placement Test and Individualized Lesson Plan?  I signed Hailey up for the third grade level and had her start taking the quizzes.
After the quiz is over the student sees a screen like this to show how he or she did.  This particular quiz showed that Hailey got 15 questions correct, she missed 5 questions, and she skipped 3 questions.  This was one where she did not score at a third grade level, so an individualized lesson plan was created for her to cover the concept that the quiz covered.
The online lesson plans are pretty short and the concept is covered very well in the short time.  After Hailey watched her lesson plan she would complete the interactive questions.  There were a few times that Hailey insisted she knew the material being covered in the lesson plan, so I let her skip the lesson and go right to the interactive questions.  If she missed any of the interactive questions then I had her go back and watch the lesson.
As a parent, this is the dashboard that I see when I log in.  I have the choices to review the placement tests, view Hailey's reports, look at the lesson plans, or watch a tutorial.  When I click on the student reports I can look at a progress report or a summary report.
This is Hailey's progress report.  It shows where the goal is for a third grader to score and then it shows where she scored on her quizzes.  Right now she has surpassed the goal in all but measurements.  She did not originally pass the goals though- this is what her progress looks like after she watched the lesson plans and the gaps she had were covered.
This is Hailey's summary report.  I can see how many times each quiz was taken and whether or not she is at grade level for each concept.  We have not covered some concepts yet, so those still say NA.
The Adaptive Placement Test and Individualized Lesson Plan from A+ Interactive Math is a great program, which I would recommend.  Hailey enjoyed using it- her review of the program is, "I liked taking the quizzes and doing the lessons with the questions."  If Hailey says she likes something related to math, then it must be doing a good job of making it interesting.  Not only did she enjoy it, but she improved her math skills- and definitely closed some of the gaps she had.
Want to learn more about Interactive A+ Math:


Leave a Reply