25
Feb
I took several years of piano lessons when I was young.  Every week my mom took me and my brothers to our piano lesson and then we would practice all week at home to go back to our lesson the next week.  I can still play the piano a little bit, but I never had that natural talent I wished that I had.  Anyway, last fall Hailey started showing an interest in taking piano lessons, so I asked some friends on Facebook for some recommendations of a good piano teacher.  There were a few that I thought might work out, until I started looking over our schedule.  We had somewhere to be every afternoon or evening of the week.  I knew it would just be too much to add another activity that took us out of the house, so I decided not to have her take lessons this year.
As you may know, I was recently selected to be a part of the Schoolhouse Review Crew, where I am able to review a variety of homeschool materials.  Last month I was given the chance to review KinderBach– online piano lessons.  So, of course I jumped at the chance!  I was excited at the thought that Hailey could learn to play the piano and we would not have to leave for another activity outside of the house. I was able to check out The KinderBach Online Piano Lesson Membership with Teacher Corner.  This membership normally costs $130 per year.  If you sign up now you can get a special limited time offer of $95.88 for the year, which works out to $7.99 per month. Since I looked into piano lessons last fall, I tell you that is considerably cheaper than what you would expect to pay.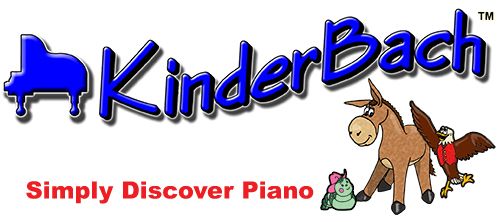 So, what exactly is KinderBach with Teacher Corner?
This is a picture of what Teacher Corner looks like.  There are 6 different levels in the Teacher Corner, although all of the levels are not yet complete.  Basically, you will get all of the printables you need for the lessons in one easy place.  You can get the teacher plan book, the teacher aid book, teacher guide, audio MP3s and the student book.  Right now there are over $400 worth of books in the Teacher Corner, with more being added.
This next picture shows you what the learning center looks like.  This is where you would go to do the actual lessons with your child.  In this picture, you can see what the first level looks like for the teacher.  There are 6 different levels and each level has 10 weeks worth of lessons, with 4 lessons in each week.  You can start from the very beginning, or if your child has a little bit of knowledge about the piano already, you can peek around and find the right place for your family to start.
Once you decide where to start there will be videos to watch, papers to color, dancing to be done, and so much more.
This is a screen shot of a video from week 5, just to give you a little idea of what the videos look like.
A few more details about KinderBach- it is geared for children ages 3-7.  You will need access to a computer, iPad, Android tablet, Kindle Fire or Nook since the lessons are online.  There are PDFs to download for the coloring sheets, story books and song books, so access to a printer is also something you will want to have available.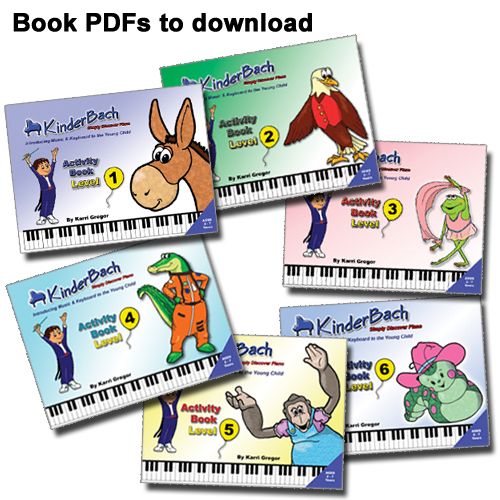 So, what did we think of KinderBach?
I used KinderBach with Hailey, age 7.  Hunter (age 2) likes to do everything Hailey does, so he participated too.  At first when I showed Hailey what we were going to be doing she said it seemed a little babyish.  I told her she had to give it a chance before making a decision like that and before she knew it, she was loving it.
Hailey and Hunter doing one of the activities from level 1.  They had to stand up high when they heard high music played and then they had to get down low when the music was low.  They both loved it and wanted to do it several times.
Hailey loves to color, so she really enjoyed the coloring activities that go along with the program.  Here, Hailey and Hunter are coloring Dodi's house.  Dodi is a donkey and he is one of the characters your child will meet during this program.
Of course, there was actual piano playing involved too, which Hailey really loved!
KinderBach was really easy for me as the teacher.  Other than printing out the papers ahead of time that went with the lessons, there wasn't much for me to do.  You do not need any experience in playing the piano to be able to implement KinderBach.  Everything was very clearly laid out from week to week, with no planning involved on my part.
So, here is what it boils down to for me:
Pros
Very easy for me to implement.
Hailey and Hunter both really enjoyed it and didn't want to stop the lessons.
Cons:
If you print all of the materials in Teacher Corner, it could become rather expensive.
The lessons could be a little longer- some were only a few minutes long and Hailey and Hunter both wanted more.
Want to see some more of KinderBach? Check them out here:
Facebook:  www.facebook.com/kinderbach
Facebook for Teachers:  www.facebook.com/classroomkinderbach
Twitter: @KinderBach
Pinterest: https://pinterest.com/KinderBach/
YouTube: KinderBach Preschool Piano


Leave a Reply