15
Sep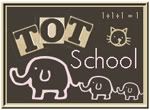 Hunter is 20.5 months old.
I can't believe it's been a month since my last tot school post!  We were really busy during August though, so there wasn't a lot of tot school stuff going on.  At the end of August we went to Disney World.  A few days after we got back from Disney World we started our first year of homeschooling.  So we've been busy and trying to get into a new routine.  Our first day of school went well and Hunter has been super good, so I'm really hoping that will continue!  Here is what Hunter has been working on during the last week:
Hunter is working on the color red and the letter A.  We are using some printables from Royal Baloo for the Zoomin Movin Alphabet.  These are so perfect for Hunter because he loves anything with wheels!
Working on his color red paper, also from Royal Baloo.
Hunter had fun painting with water colors.
He loved playing in the water using a medicine dropper.
We are also learning all about apples and Hunter is working on some pieces for a tot book I found at 2 Teaching Mommies.
We tasted several different varieties of apples to see what tasted best.
Hunter loved painting with the apple!
We went apple picking.
Hunter was more interested in eating the apples than actually picking them.
Hunter loves to do anything he sees Hailey doing.  He saw her on the floor copying some sentences off of the white board, so he got right next to her and started writing too.
He loves to rearrange the money on the "Make the Date" part of the calendar.
Stop by 1+1+1=1 to see what the other tots were up to this week.
Be sure to like me on Facebook and follow me on Pinterest so you don't miss any of our fun activities.
3 comments on "
Tot School

"
Leave a Reply