08
Jun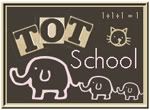 Hunter is 17.5 months old.
It's been a busy couple of weeks and I have really been slacking on my blogging.  These next few weeks are going to be super busy too!  This time of year always seems like there is just so much going on.
Our theme for Tot School was dinosaurs and the color orange.
We made an orange discovery bottle.  It's filled with lots of fun stuff, and as long as I make sure to include some beads so that it makes noise when he shakes it, Hunter is happy.
Hunter used his dinosaurs to make some orange foot prints.
Hunter loved using the dinosaur stamps.
He made an erupting volcano (original post here.)
He enjoyed making dinosaur footprints in some model magic (original post here).  This kept his attention for a very long time!
We played a game with some vocabulary words for Hailey.  Hunter loved jumping from one dinosaur footprint to another.
Hailey read Hunter some dinosaur books.
One evening while my parents were babysitting they made a ramp out of a pizza box.  Hunter thought it was great to drive his cars down the ramp.
One of the reasons I was busy- we went to the ocean… so here is some "real life" tot school:
Hunter experiencing the ocean for the first time.
He loved playing with the sand.
He thought the waves were fun too, as long as they didn't splash him too much.  He called the ocean "bubbles."
We had a great time and made lots of wonderful memories!!
Stop by 1+1+1=1 to see what the other tots were up to this week.
Be sure to like me on Facebook and follow me on Pinterest so you don't miss any of our fun activities.
One comment on "
Tot School

"
Leave a Reply