05
May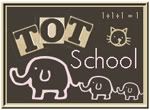 Hunter is 16 1/2 months old.
These weeks need to stop flying by so quickly, it seems like I just did a Tot School post, but here I am again doing another one.  This week we started a new color- orange, and continued our space theme.
Hunter checking out his orange sensory bin.
He wanted to wear this orange hat.
He kept his hat on and practiced throwing the football into a bowl.
This is Hunter working on making a moon rock.  You can see the full post here, to see how we made them.
Our completed moon rocks, which I think turned out really great!  Hunter has enjoyed playing with his rock all week.  It didn't hold up too well when he put it in his water table, but the water certainly looked nice and glittery.
We also made paper bag aliens.  Hunter loved using the do-a-dot markers to decorate his.
Hailey showing the completed aliens.  (Full post here.)
We also made UFOs.  (Full post here.)
Here are the completed UFOs, hanging from our chandelier.
Stop by 1+1+1=1 to see what the other tots were up to this week.
Be sure to like me on Facebook and follow me on Pinterest so you don't miss any of our fun activities.
Leave a Reply