26
Jan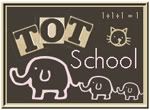 Hunter is 13 months old.
It was another busy and fun week at Tot School 🙂  We are still focusing on Farm Animals and learning body parts.  I think we will do that for one more week and then move on in February.
Hailey worked with Hunter, trying to teach him the song "Head and Shoulders."  He enjoyed watching and dancing along.
Practicing pointing to his mouth.
Exploring cotton for a Wooly Sheep craft we made to go along with our farm theme.  He really seemed to enjoy the cotton.
Hunter did a really good job putting the cotton on for our craft.  He kept looking at his hands when the cotton started sticking to his fingers.
Hunter and Hailey's sheep.  You can see the whole post here.
Hunter also made a cow this week.  He loved putting the spots and nose on.
The completed cow.  You can see the original post here.
Hailey read Hunter a book about animals.  He loves this book because it makes the different animal noises.  He usually loves to listen to it over and over again, but he was preoccupied with something else this day- and as soon as Hailey finished reading he picked up the book and went and put it on the piano bench and said, "Aaaa daaa!" which is how he says "all done."
Hunter loves his books!  He enjoyed this book all about horses.
Reading another farm animal book.
Hunter was also sick this week 🙁 and had to have some nebulizer breathing treatments.  During his treatments he watched Baby Einstein Baby McDonald which all about farms- he loved it!!
Hunter practiced stacking cups.
He loved putting the cups inside of each other and then shaking them.  What a fun sound that made!
Hunter also got into some mischief this week:

(Yes, that is my Christmas tree still up.  But since I couldn't keep Hunter out from underneath it we had to take it down.  I can't remember the last time we had our tree down before the end of January, I usually love to keep it up and enjoy the lights as long as possible.)
Stop by 1+1+1=1 to see what the other tots have been up to this last week.
Leave a Reply