Archive for the 'Earth Day' Category
14
Apr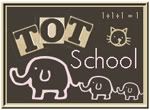 Hunter is 15 1/2 months old.
It was another fun week at Tot School this week.  We are still working on the color yellow and we started some Earth Day activities too.
The weather started out beautiful at the beginning of the week.  Since that doesn't usually last long where we live, we got outside and enjoyed it.
Hunter enjoyed painting with water.  He had a little bowl with water in it and he would work to use all of his water up and then bring me the bowl and ask for more.  He did this for a very long time, several times.
He stopped for a minute to check the back yard for Hailey.
Hunter used the yellow do-a-dot marker to make a picture.
Hailey was busy writing her spelling words outside using chalk and Hunter wanted to join in.  So, he colored outside with yellow chalk.
I wrote Hunter's name on a piece of cardboard using my hot glue gun.  Then Hunter painted it yellow.
Hunter loved feeling his name!  You can see the full post about this here.
We just started doing Earth Day activities, so I only have one to share today.  This was a very easy one- color a coffee filter with washable green and blue markers (they must be washable for it to work) and then spray it with a mist of water.
Hunter's coffee filter earth.  (See the full post here.)
Stop by 1+1+1=1 to see what the other tots were up to this week.
Be sure to like me on Facebook and follow me on Pinterest so you don't miss any of our fun activities.
13
Apr
Since Earth Day will be here soon I went to my Pinterest Earth Day board and looked for some inspiration.
This one is super simple- you just need coffee filters, blue and green washable markers, and a spray bottle with water in it.
Color the coffee filter with the markers.  It really doesn't matter how you do it.  Hunter just scribbled all over his.
Hailey drew some shapes and colored them in.
When you're done coloring, spray the coffee filter with water and watch the color spread.  (This is why your markers need to be washable, so that the colors will mix.)
Hunter's earth all sprayed.
Hailey's completed earth.
Hunter's completed earth.
Be sure to like me on Facebook and follow me on Pinterest so you don't miss any of our fun Earth Day activities.
02
Apr
Hailey had an assignment for her Girl Scout troop to create something using recycled materials.  This is what we came up with:  (idea from Pinterest)
Here's what you'll need: egg carton, cardboard (we used a Lego Friends box from a set that the Easter Bunny brought Hailey in her basket) and some paint.
Hailey painted the egg carton various colors to create a flower.
Once she was done painting we glued everything together.  I used a hot glue gun because with the shape of the egg carton, I didn't think regular glue would hold.
It turned out cute 🙂