Archive for April, 2016
05
Apr
If there is one subject that Hailey would skip if she could, it would be math.  She tries regularly to get me to let her skip math.  Math was always my favorite subject- I loved it when I was in school!  I would get excited when I had math homework.  A little bit strange, I guess, but I have always loved math.  To me, it seems a little strange that someone would not love math. But to each their own.  We have tried different math curricula, but Hailey just doesn't like math.  One of the things she has a hard time with is her multiplication tables.  I have tried games, apps that are supposed to be fun, and anything I could think of.  But it just didn't work well for her.

Recently we were given a chance to check out Times Tales, a fun program from The Trigger Memory Co. that helps kids (or anyone, really) memorize multiplication facts.  I figured it couldn't hurt to try and see if this would help Hailey with her multiplication facts.  We received the downloadable version of Times Tales, but it is also available as a DVD.  The file is pretty big, so depending on your internet connection it could take a little while to download it.  Once you have downloaded the product (or received your dvd) you simply start watching.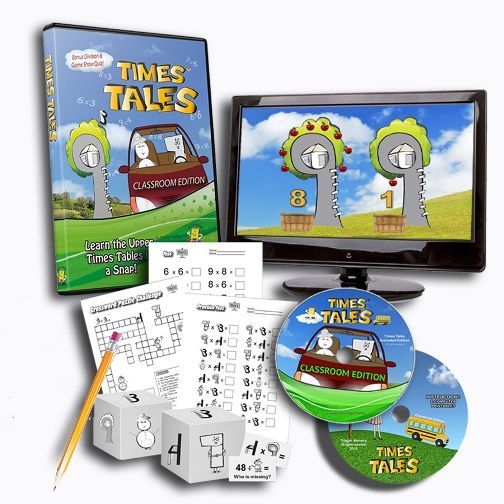 The Times Tales has 2 different parts.  In Part 1 your child will learn the upper 3's and 4's multiplication facts and in Part 2 your child will learn the 6's, 7's, 8's, and 9's.  Each part is about 30 minutes and includes 6 steps.  The facts are taught using fun stories that will make it easy for your child to remember the times tables.
Here is a brief overview of what each step includes:
Step 1:  You meet the characters that are part of the stories.
Step 2:  You learn the stories.
(Click pictures to enlarge)
This is one of the stories- in this story you learn that a butterfly (that looks like a 3) flew by a treehouse (that looks like a 9) and found a treasure chest with 27 cents.
In another story you learn that Mrs. Week (the 7) went butterfly (the 3) hunting.  She caught 20 in her net and 1 landed on her head.
There is a different story for each multiplication problem.
Step 3:  In this step there is a little quiz to go over the stories.
Step 4:  In this step there will be pictures from the stories and your child will get a chance to tell each story.
Step 5:  Here your child will see flashcards using the symbols from the stories.
On this flashcard we see the butterfly (3) and the treehouse (9).  If you remember the story you know that the butterfly found a treasure worth 27 cents.  Since your child will likely remember the story, he or she now knows that 3×9=27.
In Step 6:  You will see flashcards again, this time without the symbols.
All of the different multiplication problems will show up during this little quiz, but will look like regular numbers, rather than the characters from the stories.
Once you have gone through the steps there are printables to use to practice what has been learned.
Hailey did a crossword puzzle to practice the stories.  She also took a quiz using the number symbols.
Times Tales makes learning the multiplication facts fun.  Kids remember the stories very quickly and can use the stories to get the answers correct.  Times Tales can be used with any age to improve multiplication memorization.
Before we used Times Tales Hailey would take a long time to figure out her multiplication facts- because she was adding up the numbers, rather than just knowing the answer from memory.  I have seen a huge improvement since she has watched the stories.  At first I could see she was thinking about the stories to remember the answers, but as time has gone on, she just knows the answers from memory.
Hailey told me that Times Tales makes math fun, and for someone who really does not like math, that is saying a lot!
The first time Hailey watched the Time Tales, she was on step 6, answering the flashcards without the symbols.  As she was going through the questions she suddenly stopped and said, "It's working Mom!  I'm getting them right!"
And that is why we loves Times Tales!
Social Media:
Check out The Trigger Memory Co. on Facebook!